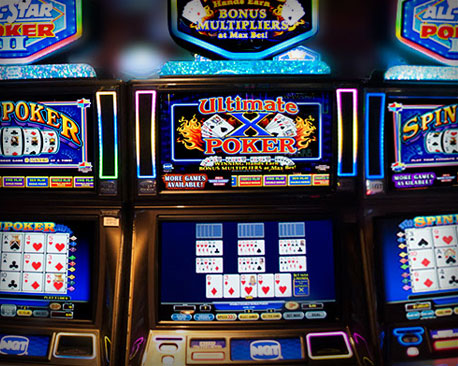 The state of Pennsylvania is in the exploratory phase of online gambling expansion, and most people feel it is only a matter of time before Pennsylvania joins Nevada, Delaware, and their neighbor to the east New Jersey, in the nascent US online gambling market.
Below you will find a complete breakdown of video poker machines, and what kind of video poker (VP) games will likely be available in Pennsylvania should the state pass an online gambling bill.
Why video poker?
Unlike a slot machine, where the game designer determines how often specific numbers or symbols appear, video poker machines cannot (by law) make one card more likely than another — video poker machines must deal cards randomly from a virtual deck using a random number generator.
Since they cannot make Aces harder to come by than Deuces, the only way the game designer can tilt the odds of a video poker machine to favor the casino is by adjusting the payouts — which is why the first thing savvy video poker players do is look at the payout structure for the machine (more on this below).
Some video poker machines offer odds no better than a typical slot machine, but other machines pay out over 99% (assuming players are using perfect basic strategy) and when you add in comp points some video poker machines can even became beatable.
Brick & Mortar Video Poker Options in PA Casinos
Here is a look at the video poker machines you can find in casinos in Pennsylvania:
Jacks or Better
Bally's All American
Tens or Better
Joker Wild
Deuces Wild
Bonus Poker
Double Bonus
Double Double Bonus
It should be noted that all of the above mentioned formats use the same rules, the same rules you find in place at a Five-Card-Draw table — assuming you can find one of those in 2014.
Where the machines differ is in the qualification for a winning hand. For example, in Jacks or Better the player needs a pair of Jacks or better to win (I know shocking), while in Deuces Wild the minimum qualifying hand is three of a kind.
Another difference between machines is in the payout schedule or pay table. Finding the machines with the best payout schedules actually takes a little bit of work, but generally speaking Deuces Wild and Jacks or Better machines have the best odds.
A word of warning about pay tables…
A common complaint amongst Pennsylvania casino-goers (and in many other locales where brick & mortar gambling is available) are the low pay schedules for the machines on the floor.
As mentioned above, since video poker manufacturers cannot change the odds of specific the only way to increase a machine's value to the casino is to adjust the payout schedule. Pennsylvania gamblers have found the machines dotting the floors of their favorite casinos to have extremely poor payout odds.
According to an article that appeared at triblive.com, Jacks or Better Machines with a 9/6 payout in Vegas (a full house pays 9 credits for every credit bet and a flush pays 6 credits) are using 8/5 and even 7/5 pay tables in Pennsylvania. This seemingly small change is actually quite significant, as the casinos edge jumps from less than .5% to almost 4%!
This change in payout percentages is the equivalent of going from playing blackjack to playing roulette.
The good news is that if online gambling comes to Pennsylvania, virtually all online casinos use the higher payout scale, where the house has less than a 1% edge over the player.
Online VP Options in Regulated US Markets
New Jersey's online casinos currently have four video poker options available:
Jacks or Better
Bonus Poker
Double Bonus Poker
Double Double Bonus Poker
Delaware's online casinos currently offer only Jacks or Better video Poker machines.
Online VP Options around the Globe
Online gaming providers are constantly cooking up new versions of video poker machines but by and large the classic machines continue to be the most popular — frankly it's almost impossible to improve upon video poker machines aside from graphic and GUI upgrades.
Most online casinos offer somewhere between one and four video poker options. Generally speaking, to offer more video poker options than this would require multiple contracts with separate gaming providers, an added expense only the largest online casinos care to take on.
Previewing PA Online Video Poker
If Pennsylvania passes a comprehensive iGaming bill and online casinos launch video poker games they will almost certainly resemble the games available at online casinos around the world and particularly those in New Jersey.
The precise video poker games available will be dependent on the companies that receive licenses in Pennsylvania, as well as the companies that act as gaming vendors in the state, which will also require a license.
Companies such as Bally Technologies, Amaya Gaming, IGT, and Gamesys are typical suppliers and operators of online casino games.
As mentioned above, online casinos can offer the highest payout schedules unlike many of their brick & mortar counterparts, so you will almost certainly receive better odds at an online video poker machine in Pennsylvania than at a brick & mortar casino.