Online Blackjack in Pennsylvania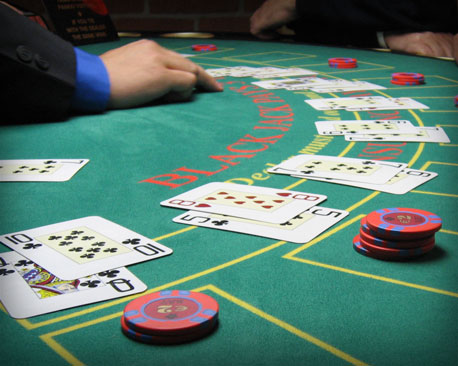 Blackjack is one of the most popular casino games of all time, and for a very good reason; actually reasons.
What makes blackjack so attractive to everyone from rank novices to experienced casino-goers is the skill element of the game, its simplistic rules, and its low house edge.
On this page you'll find out everything you need to know about playing blackjack in Pennsylvania, be it live or at an online casino if and when Pennsylvania passes an online gambling bill.
Why choose Blackjack
Blackjack allows a skilled practitioner, or a player using a cheat sheet card to bring the house edge down to about .5%, WITHOUT resorting to card-counting.
Simply playing a perfect strategy makes blackjack one of the best bets on a casino floor.
Blackjack variants in brick & mortar casinos in PA
Generally speaking you won't find too many oddball blackjack variants in brick & mortar casinos in Pennsylvania, simply because the traditional form of the game is the most popular, and empty tables mean wasted space on a casino floor.
Still, most of the land-based casinos in Pennsylvania do offer Spanish 21, which is the most popular variant of the game.
Here are the most common variations you're likely to find in PA along with the house edge:
Multi-Deck Blackjack
Multi-Deck Blackjack is simply traditional blackjack played with a "shoe" of multiple decks, usually six to eight. Under most normal conditions and rules the house edge is a mere .5%.
Spanish 21
Spanish 21 is a very popular version of Blackjack that offers house edges between .45% and .78% (pretty much in line with traditional blackjack) depending on the specific rules in place, such as the dealer hitting or standing on a "Soft 17."
In Spanish 21 the Tens are removed from the deck, leaving 48 cards. However, the key difference between Spanish 21 and traditional blackjack is in the bonuses for specific hands equaling 21:
Five-card 21 pays 3:2
Six-card 21 pays 2:1
Seven-card 21 pays 3:1
21 using 6-7-8 or 7-7-7 pays 3:2 or 2:1 if they are of the same suit and 3:1 if they are all spades
Single Deck Blackjack
Single Deck Blackjack is simply a blackjack game that uses a single deck of cards instead of a "shoe" with multiple decks.
In these games the house edge can be as small as .15%, but, and this is a big but, the casino often changes the payout schedule at single-deck tables (paying just 6:5 on blackjacks instead of the standard 3:2) which can increase the house advantage to nearly 1.5%.
Side bets; AKA Sucker bets
Remember above when I told you that the house edge at a blackjack table can be reduced to just .5%? This is not the case if you play at one of the above mentioned blackjack games where "Bonus" bets are offered.
Bonus bets offer the player a chance at a big payday, as they usually offer long-shot odds, but they should come with a buyer beware label, as the house edge on these bets can be as high as 40%, but are generally somewhere in the range of 2.5% to 8%, which is still terrible odds.
Yes, it sucks if you're playing a blackjack variant and do not play the bonus and are dealt whatever whacky hand the bonus pays, but in the long-run this will be a losing play, so anytime you see someone hit one of these bonus bets just remember that they are actually losing.
Card-Counting
Card counting is the most widely known way you can tip the odds of the game in your favor. Anyone who tries to tell you about some magical betting system is blowing smoke up your butt.
Card counting is expressly prohibited in every casino in the world, and if a casino in Pennsylvania so much as suspects you are counting cards they have the right to bar you from the property.
If you're thinking about experimenting with card-counting you should realize that catching a card counter is a lot easier than most people realize, as card counting requires you to dramatically vary your bets. This seemingly random change in bet-sizing is a sure sign of a card counter, and can be easily verified by the floor in 15 minutes by counting into the shoe along with the suspected card-counter and seeing if their wild "random" bets aren't so wild.
Online Blackjack options
Unlike in a brick & mortar casino where floor space is extremely valuable, at an online casino you'll find all different kinds of blackjack variants since there isn't a penalty for having an empty table.
Here are a few of the different blackjack games you'll find online that you likely will not find in a brick & mortar casino:
Double Exposure Blackjack
Blackjack Surrender
Blackjack Switch
Multi-Action 21
Most of these blackjack variants are patented and only available through specific providers [more on this below].
Each of these games have their own various rules and nuances, but don't be fooled by the allure of a big bonus or payday, traditional blackjack, or Spanish 21, are almost certainly the best odds in the casino.
A Sneak Peek at Online Blackjack in PA
When Pennsylvania goes live with online gambling you can expect to see a variety of different blackjack games. Precisely what games will be available at different online casinos will all depend on which companies they form partnerships with.
For instance, here are the current online blackjack games available at the BorgataCasino.com site in New Jersey:
Bonus Pairs blackjack
High-limit blackjack
Multi-hand Blackjack
Multi-hand Blackjack Pro
SideBet Blackjack
Single-deck blackjack
Single Player blackjack
Borgata's in-state rival, GoldenNuggetCasino.com, has a dramatically different assortment of blackjack options with, Win-Win Blackjack, SideBet Blackjack, Vegas Blackjack, and European Blackjack among their offerings.